Why do we need to build wildfire resilience?
For the last 100 years, U.S. fire suppression policies have largely kept fire from playing its natural role, resulting in unnaturally high "fuel" levels in forests and other areas throughout the country. Removing fire from ecosystems that depend on it to stay healthy, coupled with more people building houses in flammable natural areas, have created a costly and dangerous wildfire problem. We need to find ways to restore fire to places that need it, while protecting homes and communities. We need to learn how to live more safely with fire. The FAC Net is helping people create a more wildfire-resilient future by connecting the innovative leaders in this field.
Why not just put all the fires out?
We can't, and we shouldn't. Fire is a natural and necessary element for most of our natural areas. We've spent the last century trying to exclude all fire, and that has allowed "fuel" to build up, and created other problems. Fire suppression policies got us where we are today, experiencing unnaturally severe and damaging wildfires that are getting worse. Adopting a new approach aimed at making communities and ecosystems more wildfire-resilient will put us on a better path and create safer and healthier conditions for people and nature.
Who should be involved?
Everyone has a role to play in creating fire adapted communities. This includes homeowners, land managers, firefighters, business owners and community leaders. Collaboration and relationships are key to improving fire safety.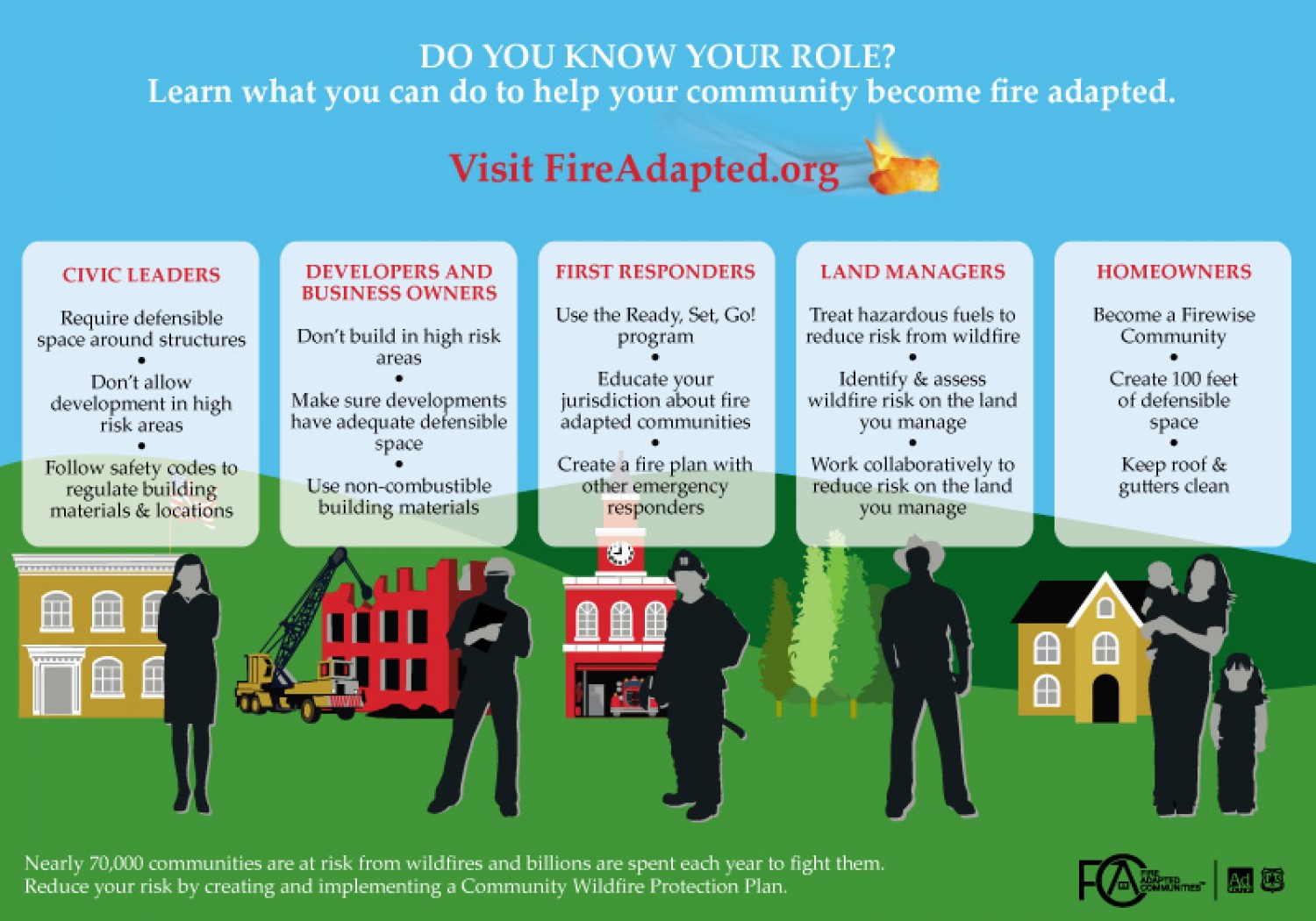 How will we know when our community is finally fire adapted?
There is no defined end-point for communities striving to live more safely with wildfire because the work is never finished. At the heart of the process is local collaboration, planning and coordinated action. Agencies, citizens and other players must have a forum to exchange ideas and information about their efforts, and to lay out strategies for moving forward together. These "local FAC coordinating groups" can take many forms, and are an essential element in making durable progress. Learn more about assessing your community's adaptation by downloading the FAC Self-Assessment Tool.
Our Partners' FAC Resources